Day 75 - June 5, 2003 - Counter sealing
---
Back to kitchen page
......Previous construction day
......Next construction day
---
Counter sealant being applied to north counter. Two coats were applied to all counters.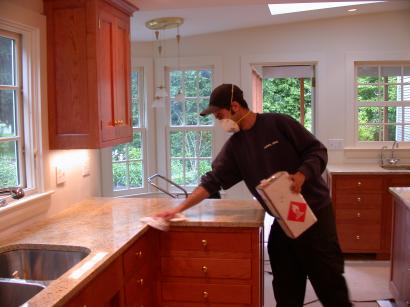 ---
Sealant being applied to south counter. This stuff is really nasty - highly volatile and probably quite dangerous to breathe. It dries nearly instantly and needs to be reapplied about every 6 months. Its quite expensive too. Once applied we are ready to start using the counters. We still have to watch out for grease stains (olive oil, butter, gravy, etc) so such materials should be wiped up relatively quickly.
---
The clutter begins - microwave and toaster moved to the counter.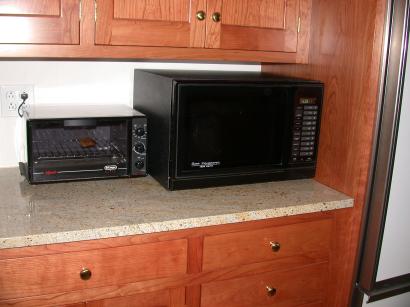 ---
First meal, ready to eat, in the dining nook.
---
Espresso bar area ready to go as soon a small leak in the under-sink plumbing is fixed in the morning.
---
The clutter begins on the north counter.
---
Back to kitchen page
......Previous construction day
......Next construction day