Day 73 - June 3, 2003 - Finish plumbing
---
Back to kitchen page
......Previous construction day
......Next construction day
---
Sal starts plumbing the espreso bar sink.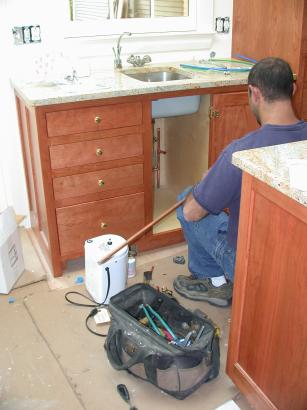 ---
The electrician put the electrical boxes where the gas line is supposed to go, causing a glitch in the cooktop installation.
---
Washer and dryer put into the final position.
---
The sink and toilet in the laundry room were installed today.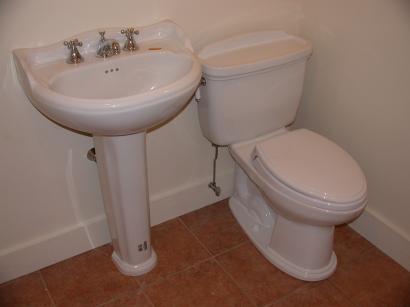 ---
Another view shows room for the laundry sink cabinet.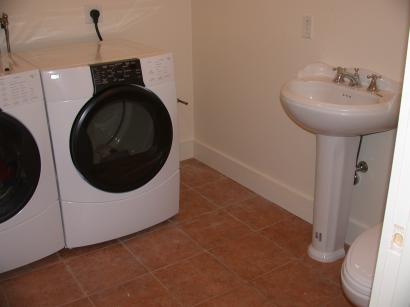 ---
Bar faucet and hot/cold water dispenser in place. Water not available yet as pipes in basement have yet to be tied in.
---
There is a lot of stuff in a small space under the sink. The white unit on the left is the hot water heater. The blue cartridge on the right is the filter for the espresso machine. The filter for the cold side of the hot/cold water dispenser is behind the heater.
---
The plug for the cooktop igniter has been moved into a smaller box and pushed into the wall, leaving only the box for the oven feed. This is an ugly job - but fortunately it will all be hidden under the cooktop and out of sight.
---
Also, Johnny completed the sink vent by putting the vent pipe through the garage roof.
---
Back to kitchen page
......Previous construction day
......Next construction day