Day 62 - May 20, 2003 - Misc 2
---
Back to kitchen page
......Previous construction day
......Next construction day
---
Counters laid out on granite slab number 1. Actually top two pieces will be reversed so that the peninsula piece (the L-shaped piece) will have a near perfect seam with the main sink piece (upper right).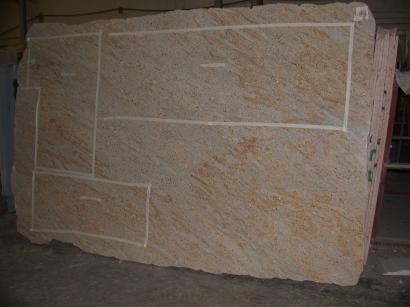 ---
Counters laid out on granite slab number 2. Actually the long piece will be moved to the top and the upper right piece will be perpendicular and adjacent to it so that the wrap around counter will have a near perfect seam match. The remaining piece is for the cooktop counter area.
---
View of both slabs. Counters are scheduled for delivery next Tue (May 27).
---
Bobby works on the addition ceiling fixture while Mike works on the bay window sills.
---
Pat moves the wires for the hood.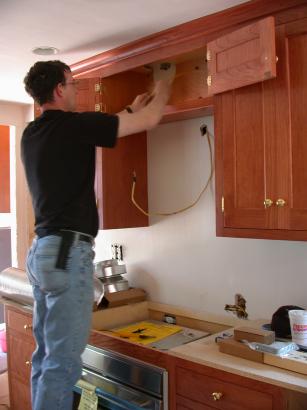 ---
Sal is installing the old dishwasher.
---
Sal installing the dishwasher drain into the temporary sink plumbing.
---
Partially installed ceiling fixture.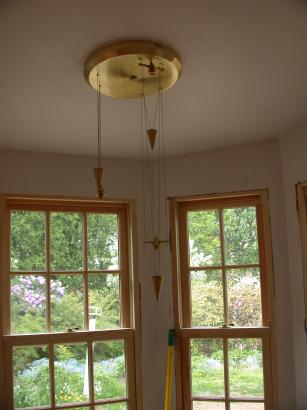 ---
Completed window sill wraps around the bay.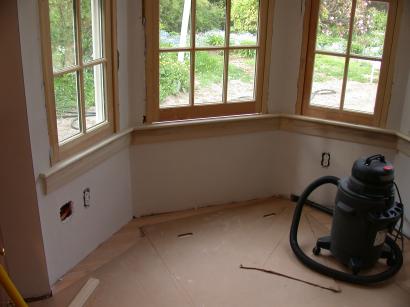 ---
Hood installation awaiting vent pipe installation. Bulbs in hood are not the recommended ones.
---
Temporary sink installation.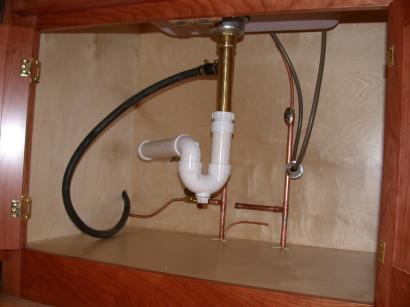 ---
We have water.
---
Hood view.
---
Fridge has been powered. We will wait for anti-tip bar to be installed before loading it up.
---
Track light over wrap-around cabinet was installed today.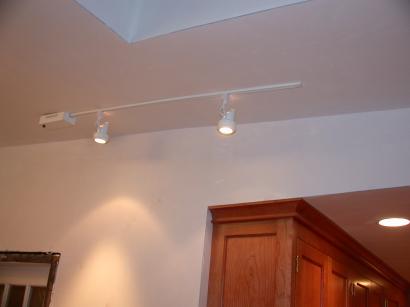 ---
Back to kitchen page
......Previous construction day
......Next construction day