Day 43 - Apr 14, 2003 - Plumbing starts
---
Back to kitchen page
......Previous construction day
......Next construction day
---
Joe the plumber starts
---
Siding on driveway side of house finished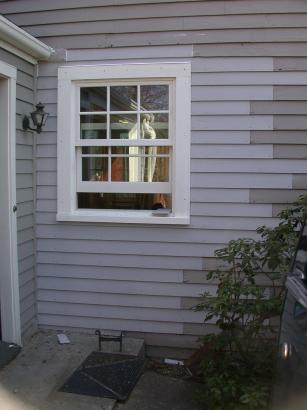 ---
Siding on house above roof on north side finished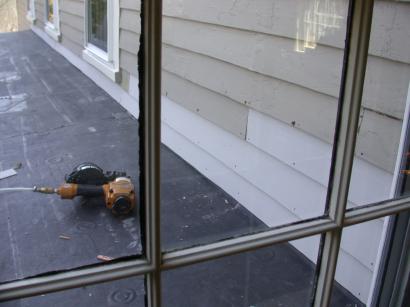 ---
Floor of laundry room removed. Old plumbing will be removed and redone.
---
Drain and vent for bar sink. Drain for bar sink is routed to kitchen drain rather than the celler drain, thereby solving the conflict with the electrical box in the basement.
---
Frank and Mike working on the last area of siding to be done.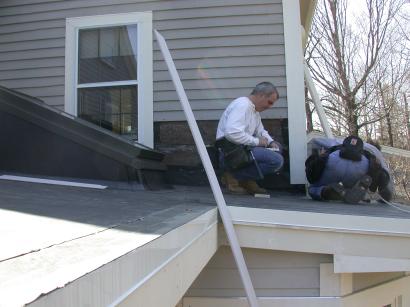 ---
Job site showing the remaining pile of dirt which will be removed this week.
---
"Bow" vent and drain for the bar sink as the bow vent goes overhead and the drain turns to connect to the sewer.
---
Sewer connection showing the PVC mated with the cutoff cast iron drain, under the kitchen floor.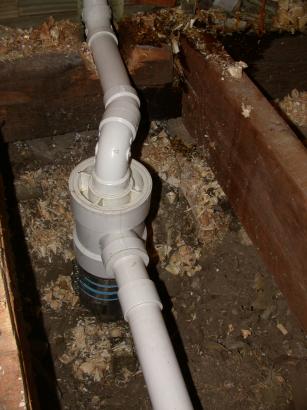 ---
Drain at the main sink and vent riser connecting to the bow vent from the bar sink.
---
Joe removing the old water pipes to where the new pipes will be routed through the ceiling.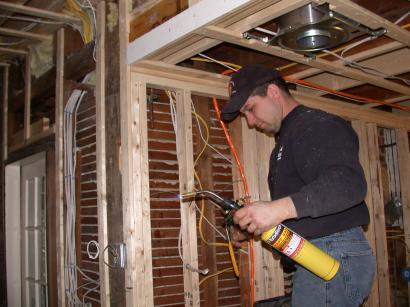 ---
Back to kitchen page
......Previous construction day
......Next construction day