Day 40 - Apr 8, 2003 - Electricians again
---
Back to kitchen page
......Previous construction day
......Next construction day
---
Lorrie starts clapboard on the bay
---
Paul runs wire to the porch fixture (romex inside wiremold)
---
Frank finishes up sinding on the annex on the porch side
---
The plumber visited to size up the job. Several bays in the kitchen subfloor are exposed. Insulating under the floor is going to be difficult.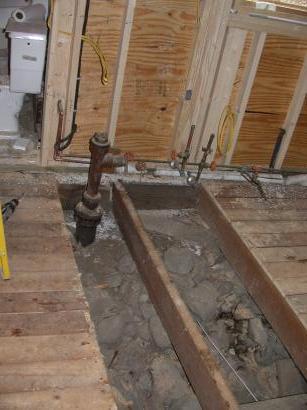 ---
Jim uses hammer and chisel to loosen some stones in the basement foundation to remove big stone at top and provide access to crawl space under addition.
---
Crawl space to addition exposed.
---
Finishing siding on the north wall.
---
Siding on the bay - all finished except the side near the ladder.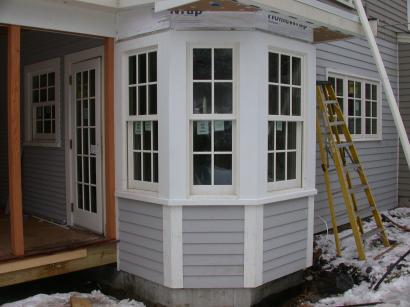 ---
Bobby pushes wires into the plastic conduit while...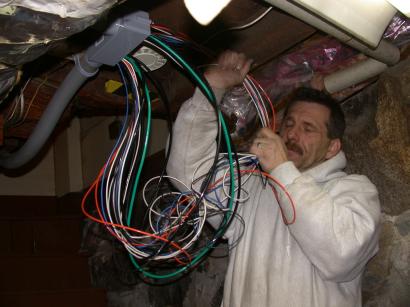 ---
Pat pulls the wires
---
Heating box used to soften plastic conduit so it can easily be bent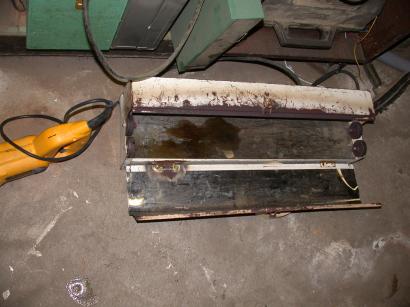 ---
Junction box at the end of the work day
---
Back to kitchen page
......Previous construction day
......Next construction day