Day 79 - June 13, 2003 - Cooking with gas
---
Back to kitchen page
......Previous construction day
......Next construction day
---
Sal and the plumbing inspector check out the outside gas pipes.
---
Uh-oh! There is a problem with the cooktop installation - there should be a gas sutoff within six feet of the gas appliance, but we have provided for none and there is no good way to install one at this point. In our next life, the gas line would be run first to the sink area where a shutoff would be installed under the sink. The inspector passed the job with my OK that I would go down to the basement shutoff in case of a problem. Note that in most installations the shutoff is put behind the stove, which is useless in case of a problem with the stove.
---
Sal puts in the cooktop after one last pressure test.
---
The gas man arrives with the gas meter.
---
Installing the gas meter.
---
We are now cooking with gas.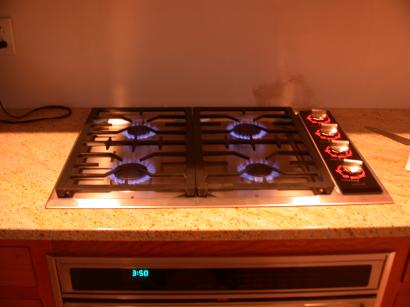 ---
Cooktop maiden voyage - steaming asparagus
---
Oven maiden voyage - baking potatoes
---
Back to kitchen page
......Previous construction day
......Next construction day